Woo hoo! So you're ready to start a blog and make money while you sleep? Trust me, you won't regret it.
If you're looking for an easy guide to learn the step-by-step process of starting a blog from scratch, then you're in the right spot.
Starting a blog was easily one of the best decisions I made and I only wish I started it sooner. You can easily start without any technical experience.
Now I'm going to walk you through this free beginner's guide on how to start a blog and make money blogging. Easy Peasy!
If you're still on the fence, read this before you get started. It will help you decide if the process is right for you. If that doesn't convince you, then maybe you can revisit the process when you're ready.
Step 1: CHOOSE & Narrow Down Your Niche
A niche is just a fancy word for your blog topic and the main theme of your blog. It is also the audience that you will be writing to.
In order to choose the niche of your blog, you want to analyze yourself; your strengths, experience, expertise, passions, and interests.
1. Choose a blog topic that you care and know about well
The ultimate goal of developing your niche is to find a topic that you are passionate about and are interested in learning even more.
You want it to be an area that you can write and write about because that is a large part of blogging.
You don't need to be an expert in the topic, just have confidence that you know enough to offer your advice to others.
Your reader wants to hear about the real-life experiences, not just what the so-called experts have to say.
You also must be willing to grow and learn and that will teach you more about your topic as you go.
2. Be sure the topic is popular and has a large audience
If you're going to be spending a ton of time on your blog, you want to make sure it's a topic that people are searching for.
Here are some ideas of the most favored, profitable niches. If you're in one of these categories you should have no problem getting traffic if you market your blog in the right way.
Personal finance– saving money, couponing, frugal living, paying off debt
How to make money– starting a blog, work-from-home businesses, side hustles, career-specific advice, becoming an entrepreneur
Health and fitness– healthy eating, fitness exercises, reaching weight loss goals, targeted body parts with exercise, healthy lifestyle
Food– healthy recipes, dessert recipes, keto/paleo/diet-friendly recipes, vegan recipes, recipes for food allergies
Beauty and Fashion– makeup, clothing, accessories, everyday wear, special occasion wear, style
Personal Development– relationships, self-help, career development
Home– decor, organization, interior design, renovations, specific style decor (farmhouse, modern, bohemian)
Travel– specific destinations, family-friendly travel, solo travel, Disney travel, romantic/exotic/serene destinations, nomadic travel, worldwise/domestic travel, hobby traveling for hiking/scuba/hunting/leisure
Family– pregnancy, trying to conceive, infertility journies, breastfeeding, motherhood, parenting, raising babies, toddlers, and school-aged kids, children with disabilities
DIY/Crafts– wood projects, vinyl projects, projects for kids, seasonal crafts, home decor DIY, party decor DIY
Tech– latest inventions, computer help
Lifestyle– can include anything that's part of your daily life
3. Get inspired
Visit other blogs for inspiration and to see what jumps out at you. You'll get an idea of what works, what doesn't, and what you strive for your blog to be one day.
Don't be afraid that the competition may seem fierce. There is still so much space on the internet for every topic out there.
No one tells the story like you and your unique perspective, experience, and knowledge is something that no one else can offer.

4. Decide how specific you want to get
It's may not be possible to blog about everything on a given topic and know enough about all those areas. That's where niching down comes in.
In some cases, you want to narrow down your topic in order to be considered an expert in that one area.
Not only does this give you a narrower scope, but it will make you seem very knowledgable because you have so much content on one subject.
On the other hand, maintaining a broader topic will help you to not get burnt out so easily. It opens up so many more ideas and inspiration for choosing and writing content.
This can be one of the hardest first decisions that you have to make for your blog.
The domain name is what your web address will be (www.ABC.com). The name (or title) of your blog is what will appear as the logo or heading of your blog.
Step 2: Choose a Blog/Domain Name
This is one of the most important things you will do for your blog because unfortunately, it's one of the only things that you can't just go back in and edit or change.
The best way to start is to jot down a bunch of words and phrases related to you and your topic.
See which words mesh together well to form a title. Consider moving words around or other phrases that use a play on words.
Don't get your heart set on a blog name before you check if it's available.
Unfortunately, the first 10 names that you come up with will probably be taken. Therefore, you'll want to come up with a list of a few to get you started.
Get Inspired
Just like you did with choosing a topic, take to the internet for inspiration in coming up with a name.
There are tens of thousands of blogs on the same topic as you. Search through Google, Pinterest, and Instagram for blogs in the same niche to see what jumps out at you.
A few more suggestions:
Don't be too specific with your name in case you want to veer into another niche later on.
Try to keep it within 2-4 words to be easy to say and recall
Be aware that the spelling isn't too difficult
Use a name that is both memorable and unique
Use a name generator to help select a name by putting in some related words and it will give you some unique ideas
Step 3: Buy Your Domain and Web host
A domain is the URL of your website and a web host is the server where your website and domain will be stored.
You need to buy that space on the host's server so they can keep your website safe and give it access to the internet world.
There are free web hosts out there, but if you want a blog that MAKES MONEY, you NEED to pay for your hosting.
Paid hosts give you:
Fast website
Faster speed
Reaches a larger audience
Better customer support
Unlimited features and customizations
No unsolicited ads
Think of this as creating a business. You need to invest a little bit to be successful.
Why I love BlueHost:
It's the #1 recommended web hosting company by WordPress.org
You get a FREE domain name when you buy a 12-month plan
It's the best affordable hosting for beginners when you want to invest the least amount.
Simple One-Click Set up
Offers a Free Domain Email
24-Hour Customer Support
Free WordPress connection
Domain privacy and security is included
So if you've got your domain name picked out and you checked if it is available, you're ready to buy your website!
How much does web hosting cost?
Your hosting cost can start at $3.95/month and go up if you choose a more complex plan. This includes web hosting, domain address, WordPress, web email, and so many more features. It's really such a great deal.
The only fine print is that you have to pay for the whole year in full. So, if you're on a super tight budget, shelling out the $75 at once may be tough, but this is the ONLY cost you will HAVE to spend until you start making money.
Selecting your plan
Click here to head over to Bluehost and hit the green "Get Started Now" button to chose your package. It's only $3.95 a month through my link if you sign up for 36 months.
With a new blog, the basic plan is all you need to get started, but if you're optimistic that your blog will grow, you may want to choose the Plus or Choice Plus (since it's the same price)

The benefit of choosing the higher plan now is that you lock in that low price.
Create your Bluehost account
Enter your chosen domain name and get your account set up.
Fill in your personal details and plan option. As you'll see, the longer your plan is, the cheaper it will be. I strongly suggest you purchase the longest time period available (36 months) because you lock in that price for 3 whole years.
And remember, you're going to be a successful, professional blogger and your website will be up and running for a LONG time!
Also, the extra add-ons like SiteLock security, Codeguard, and SEO Tools are unnecessary so save your money and don't add those.
Cue the CoNFeTTi!! Now you OWN a website!
But don't pop the champagne yet, there's still a lot more work to do.
Step 4: Set up your blogging platform (WordPress)
WordPress.org is the most popular blogging platform in the world. It offers the most flexibility for design and monetization.
WordPress is what enables you to write, create, edit, design, and publish anything you wish to put on your site. It will allow you to create the blog of your dreams and make money doing it!
Bluehost makes it so simple to create a WordPress blog. Bluehost will now automatically install WordPress for you. All you have to do is choose your password!
After you have installed WordPress and selected your password, Bluehost will give you the option to select a theme. You can choose one of their pre-selected themes and change it later or just skip this step if you want to use your own.
Now you just need to click the Start Building blue button and you will be redirected to WordPress. This is your WordPress dashboard where you will spend 80% of your time blogging!
It may seem complex now, but you will learn to love it!
Familiarize yourself with WordPress
First things first, you should familiarize yourself with the menu on the left. Here is what you will see and what it's for:
Posts: This is the tab that you'll click on to write your new blog posts.
Media: This is the library where all of the images that you upload to your website will be stored.
Pages: This is where you'll create the different pages that you want to have on your website, including your About page, Contact page, and your Privacy Policy.
Comments: This is where you are going to get social by reading and responding to comments that are posted on your website.
Appearance: This is where you will go to manage the entire look and layout of your website.
Plugins: A plugin is a piece of software that acts as an add-on to a WordPress website. They are super important in adding special features to your blog.
Users: Here you can manage the users on your website. For now, you will be the only user.
Tools: This tab gives you the option to import/export data to and from other content management systems.
Settings: Your WordPress settings are really important.
As much as you might not understand exactly what you are doing yet, you must set up this tab correctly immediately, or it will be very difficult to change things later.
Essential WordPress Settings
Let's make sure you set things up right on the backend from the very beginning!
1. Admin User
In the very bottom left corner of the screen, you will see the word "Users". Hover your mouse over the word "Users" and select the option "Add New."
Fill out all the information on the next screen (Username, Email, etc) and be sure to change Role to "Administrator."

Click the "show password" button. Change the password to something you will remember and write it down for safekeeping.
Once all the information is complete and you have your password, click the "Add New User" button at the bottom of your screen.
2. General settings to update
A few important settings to get your website up and running are found under the Settings > General tab.
Site Title: This is going to be the name that you want to appear front and center when someone lands on your website.
Tagline: This is a short one-liner blurb that tells readers what your blog is about. It appears right below your website name on your website homepage. You do not have to use a tag line, so don't waste too much time here!
WordPress Address (URL) & Site Address (URL): These will both be your domain name.
Email Address: This is the main email address attached to your website as the primary contact address.
Make sure the Timezone, Date, and Timecorrespond correctly to your geographic location.
The rest can be left unchanged.
3. Setting up Permalinks
A permalink is the URL or web address of each of your blog posts or pages. It is intended to remain unchanged for many years into the future.
It is the URL of each individual page or post AFTER your domain name. You'll see below.
How to set up permalinks correctly
On your left menu, hover over settings and click on permalinks.
When you set up your WordPress blog using Bluehost, the permalink settings should default to the format of domain.com/post-name.
If your permalink settings aren't already set to this format, it's important to change them to domain.com/post-name. right now.
4. Install Essential WordPress Plugins
Plugins are what will give your blog special features of your choosing. You can download plugins and install them right to your site very simply. They're basically like apps for your website.
They can give you the ability to create the exact functions you need to make your site run efficiently and show/use your content exactly how you want it.
From your WordPress dashboard, you can install a plugin by following these steps:
Click on Plugins > Add New on your WordPress left hand menu.
Search for the name of your desired plugin in the search bar.
Click on the Install button next to the plugin you want.
After it installs, the button will say Activate. Click on Activate to start using your new plugin.
If you can't find the plugin that you need in this search area, search for the plugin on Google. Download it through the website and install it in the same section.
For a more detailed walkthrough, here's a beginner's guide to installing plugins. Also, go to the individual plugins page for more detailed information.
Must-Have FREE WordPress Plugins
Here are the most crucial WordPress plugins that your site should have from day one.
Looking for more WordPress plugins to add features to your site? Check out this roundup of the best WordPress plugins.
Step 5: Choose and Customize a Theme
The joy of setting up a website or blog in 2020 is that you don't have to be a computer nerd to do it!
Luckily for us, the computer programmers have designed ways for us to install a ready-made theme on our website with ease. This allows our blog to look pretty and put together with NO coding experience required.
A theme is a set of files with pre-written code that allows you to customize your website without needing coding knowledge. It defines how your blog will look and provides the framework to create the styling of your WordPress site.
Some of the basic features and customizations of themes will include:
Page layout
Customizing your colors
Menu categories
Header area with logo
Footer area and menu
Displaying your blog posts on your home page
Space for widgets
Sidebar
TIPS TO GET STARTED
Don't Strive for Perfection
Once you start customizing and seeing your website come to life, don't keep tweaking and changing until you get it absolutely perfect. This is an area that you don't want to get caught up in because it will waste valuable time that you can spend writing content for your blog.
Understand the Limits of Your Theme
You are choosing a pre-made theme so there's generally not a ton of wiggle room. Make sure you check out the demo version to ensure it has everything you'd need, but your blog may not look exactly how you envision it in the beginning.
My biggest suggestion is to avoid any extra costs in the beginning or at least until you start making money. Once you make your first 10, 50, or 100 dollars, you are ready to start investing back into your business.
Your style WILL change as time goes on so save your money to buy a theme when you're ready to commit to a new style.
WHAT TO LOOK FOR IN A THEME
The most important thing about whatever design you pick is functionality. Your blog needs to be easy to navigate, clean, and mobile-friendly.
Top things to look at in a WordPress theme:
Keep it simple. Easy navigation, easy-to-read fonts, and the ability for readers to engage with your content. They are coming to your blog to read information not to look at a fancy website.
It has to be responsive. Most people now are searching the internet on their mobile devices. Having a responsive theme just means that it transfers well for visualization on a cell phone, tablet, or between different browsers.
Support. Honestly, a lot of themes do lack in the support department, but it's something to look for when choosing a theme. There will always be little fixes that you need to make or changes that you can't figure out and it's helpful to have the person who designed it help you out for free.
Visually appealing– Of course, you want your website to look great so this is a big reason most people choose their theme. There are so many to choose from so you are bound to find one that fits your taste.
You're not married to your theme. Most bloggers change their themes several times over the course of their careers so don't get too hung up on it at the beginning.
MY BLOG THEME RECOMMENDATIONS
Choosing a theme is completely a personal preference. Only you know what your vision is for your website and what you want it to look like based on your style, niche, and design.
Therefore, it's not possible for me to tell you exactly which one to use. However, I will give you some examples and options that I have seen and loved, as well as the one I use.
Here are some gorgeous, feminine themes to make your website pretty. Sorry for giving you so many options because I know that makes decisions harder.
Hello You Designs– My theme is from Hello You and I love the simplicity and feminine design that they offer.

Here is a large list of some other great feminine WordPress themes.
Divi Theme
Divi is one of the most popular themes because it's so easily customizable and VERY user-friendly.
It's a very unique theme because it has a lot fewer restrictions. This allows you to really bring your vision to life without spending thousands on custom web design.
FREE OR PREMIUM WORDPRESS THEME OPTIONS
To find a free theme that you like, you can log in to your WordPress dashboard, click on Appearance, and click on Themes.
If you want to look for more free themes, you can simply click the big + button, and you will be able to pick between hundreds of beautiful free themes. There are sooo many to choose from, but don't waste too much time here.
My favorite FREE feminine WordPress themes are:
You're bound to find something you like or at least tolerate until you can afford to splurge on a premium theme.
If you decide to purchase a theme, instead of installing a free one from WordPress, you will need to upload it to WordPress. Simply click on Upload Theme, select the file on your computer, and then follow the prompts to upload and activate your theme.
CUSTOMIZE YOUR THEME
Now that you have selected your theme, you can start to customize it and really make it your own. This is where your website will really start to come to life. You can either click on the blue Customize button under the theme you have installed or select the Customize tab on the left, under Appearance.
You will have your menu on the left, and your blog on the right. The cool thing about this view is that you'll be able to see the changes in real-time and before you actually publish it.
You can navigate through the pages and categories to see how the changes might affect each page or post.
Site identity
This is just another place where you can change your blog name, tagline, and site icon. The site icon can be your photo, a smaller version of your logo, or any other image.
Colors/Appearance settings
Here you will be able to play around with all the color settings of your blog. Make sure you select easy to read colors for your text and links. *Be sure to write the hex codes down (the corresponding numbers and letters that start with #). This will correspond to all the colors you use for your brand including logos, icons, and graphics.
Header/Footer options
Here you'll normally be able to add your logo, your main image or slides, and additional settings. Check out how to make your own logo here.
Menus
Your menu options will vary based on the theme you choose, but here you'll be able to adjust which menu structure(s) will be assigned to your website.
Widgets
Widgets are simple design elements and portions of your layout that you can use to build your website's design. This is how you can change the look of your sidebars, footers, and parts of your site.
Each section is broken up into widget areas where you can add certain elements of your choice. Your theme should have more information on this. You can read a bit more about widgets and how to use them here.
Unfortunately, your theme doesn't just come out looking exactly like that right away. In order to make your site look like the sample version, you will need to apply all these changes.
Setting up the menus, widgets, header, blog posts, etc. can take a bit of time, but just be patient and it will start to look exactly how you have imagined.
Pages, posts & categories
Now that we finished all the technical stuff and you set up the look and functioning of your blog, we can start to focus on the actual content of your site! Pages, posts and categories will create the basic structure and content of your blog.
Categories
Your blog post categories are the main topics for your blog. The category labels are used to organize your blog topics on the menu and make them easy for your readers to find.
They can then be further divided into sub-categories (via drop-down menu) to break up your content even more.
To create a new category you simply go under Post > Categories.
Name
Your category name, for example, Pregnancy
Slug
This is just the end of the URL with the name of the category. So the slug would simply be the same as the category name.
Parent Category
The main categories of your blog will not need a parent category, but each sub-category's parent category will be the main category.
Description
You can write a small description of what the category is about. Some themes will display this field publicly, but others won't. It's typically not necessary.
After you filled all the information, just click on Add New Category.
Pages
Pages are the static areas that will remain on your website menu all the time. They can be edited, but they don't have a published date and are not ordered by date.
Creating a new page is pretty simple. You just need to select Pages > Add New and you'll see a page like this:
Every page (and post) must have a title that will simply be the name of that page. The rest of the content is written in the main body.
Important tip: Hit the button "Save Draft" from time to time to ensure your content is always saved as you go on.
Once your page looks good and you are happy, you just need to hit the Publish button.
Essential Pages to Publish
In order to convey an important sense of legitimacy and trust from your website, you need to create a few specific pages.
About page – This can show your authority on the subject, personal life, why you started a blog, past accomplishments, goals, and what they should expect from your blog. Check out mine here.
Contact Page – You want your readers and other businesses to have an easy way to contact you if needed. You can create a contact form super quick with WPForms. All you need to do is add some instructions and the plugin will take care of the rest.
Legal Pages – If you ever want to earn money from your blog, you'll need some of these standard policies. Many monetization strategies, including ad agencies and affiliate programs, require them.
The three important legal pages that every website needs are: Privacy Policy, Disclaimer, and Terms and Conditions. You can find free templates online to get inspiration.
Privacy Policy – a statement that discloses all of the ways you gather, use, disclose, and manage a reader's data.
Disclaimer– explains that others should not rely on the information on your blog and that you cannot be held legally responsible for anything you publish on it. To put it simply, a disclaimer protects you from lawsuits.
Terms and Conditions– help your readers to understand what they should expect from your blog. It covers topics like sharing intellectual property, community standards, use restrictions and helps to protect you from liability.
Creating Your Main Menu
Adding a menu to your site, allows the reader to easily navigate from the blog post that they stumbled upon to other sections (categories, pages, and posts) of your site.
The menu is very important because it's how people will find your content. Although a page or post is published to your site, does not mean it will be seen easily. You will need to add it to your menu so the reader can find it.
To create a menu in WordPress, click on Appearance » Menus. Enter a name for your menu (I just named mine "Main Menu" – it won't be seen) and click Create Menu.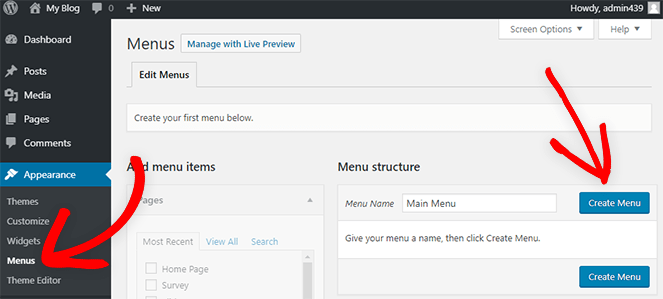 Now you can add your new pages to the menu. On the left side under Pages, check the box next to the pages you want to add to your menu. Then click Save Menu.
This is the same way you will later add categories or posts to your menu.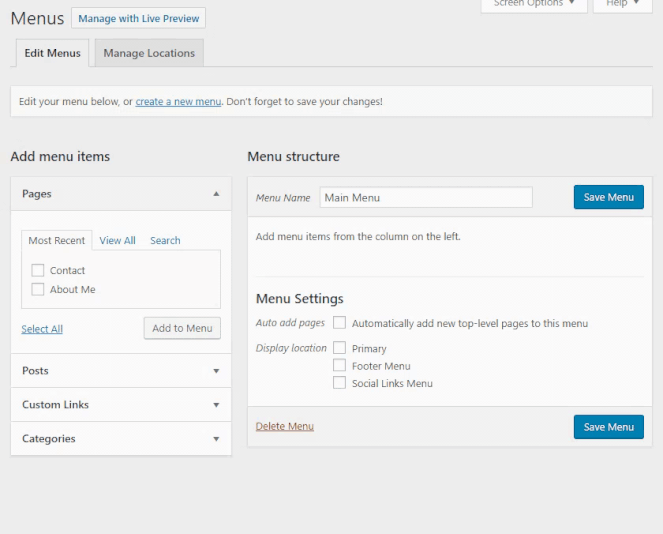 To add the menu to your main menu, click on Manage Locations tab at the top. Then select your menu in the location where you want it to appear. This may vary with your theme.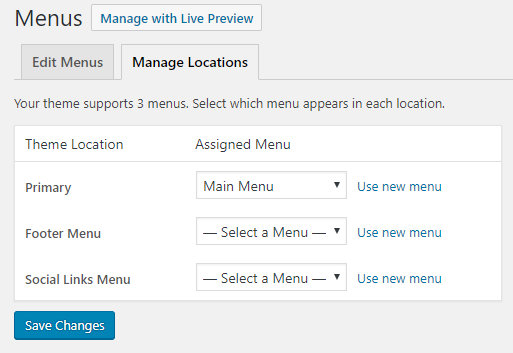 In your top menu is where you will want to place your main (or 'parent') categories and then as a drop down, you can put the subcategories like so.
So that is how to set up your blog! There are hundreds of different ways to customize your blog for both your personal taste and your reader's experience.
Your style and knowledge will change as you go on so also don't spend too much time on this now. Build some content and then revisit for customizations.
The next thing you have to do is start writing blog posts! This is where it starts to get fun and you can actually start bringing your dreams to reality!
Check out my posts about how to write quality blog posts that people actually want to read and how to get blog traffic and watch your site explode here.
If you have any questions feel free to write it in the comments or send me a message!